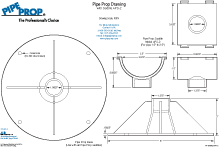 At Pipe Prop, we realize that working as a plumber can be dangerous due to the fact that you have to work with pipes on a regular basis. Our pipe support design was created with plumbers in mind and is beneficial to the plumbing industry for several reasons.
The Benefits of Using a Pipe Prop
When working in a home doing a piping job, a simple trip and fall over loose material could have disastrous consequences. The pipe support design of our product keeps pipes visible so that this risk is minimal. Additionally, this support design can elevate gas lines in the location where piping work is being done. This will ensure that the wrong pipe is accidentally cut or intertwined with another one that leads to a customer's water lines.