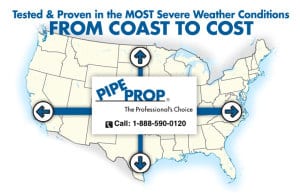 From California to Florida, the Pipe Prop adjustable support system has been tested and proven among some of the most severe weather conditions throughout the United States. And with more than 170 distributors across the United States, the Pipe Prop adjustable pipe system is easily purchase and is most likely at a location near you. Take a look to the to the right side of our web site for a state and city that is closest to you for your next order.
Remember, the Pipe Prop versatility and flexible design is perfect for the following:
Roofing contractors who need to protect the roof of commercial buildings with elevated piping and allow for a safer and cleaner work environment.
Professional plumbers who regularly use support systems for gas supply lines.

HVAC contractors who need adjustable gravity flow drainage on both residential and commercial roofing applications
Electricians which require adjustable conduit support to alleviate power outages within buildings.
Pipe Prop Adjustable System is:
Made in America
> Affordable
> Easy to assemble
> Time saving
> Adjustable to any height
Pipe Prop Elevates and Secures:
> Condensate Drain Lines
> Gas Lines
> Electrical Conduit
Check out one of our Pipe Prop distributors across the United States. Or if you did not find a distributor in your area, please contact us at 1-888-590-0120 for further assistance.