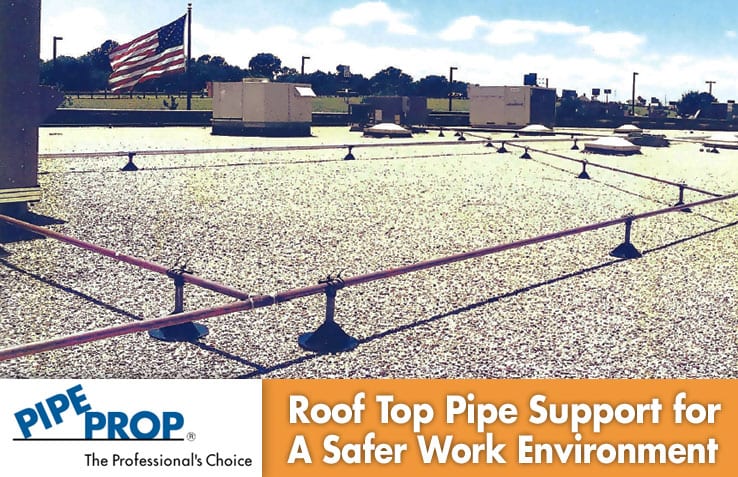 Whether looking for a small rooftop pipe support system for plumbing system, electrical components or air conditioning drainage pipe, the Pipe Prop root top support system delivers up to 8,000 load-bearing capacity that keeps building roofs protected and provides workers and contractors a safer and more efficient working environment.
Today's HVAC, electrical and plumbing contractors have a number of reliable tools at their disposal that are flexible, convenient and efficient. The professionals choice by contractors for rooftop pipe support installation that provides an adjustable pipe support system is Pipe Prop. And with the flexibility of creating a easy-to-install pipe support system attached to metal, tile or asphalt rooftop surfaces makes for an indispensable tool for contractors. And having a solution that is stable, durable and rigorously tested in a variety of high winds and harsh weather conditions from Florida to California, the Pipe Prop pipe support system is why it is the Professional's Choice, year after year.
While the Pipe Prop provides solutions for a variety of applications and different industries such as electricity, plumbing, roofing and air condition drainage, the set-up is simple and only requires on-hand tools to install such as a PVC cutter and PVC glue. Once the base is fixed to the roof, simply cutting the pipe to the needed height and securing the pipe in the pipe saddle and the result is a steady and long-lasting solution for any roof top pipe support requirement. Check out the Installation Support information.
Call Pipe Prop or contact your manufacture representative near you to learn how Pipe Prop can streamline your work load and make a safer work environment for you on your next project.