Rubber Adjustable
Pipe Support RUB-1
Model Number:

Rubber Adjustable Pipe Support RUB-1

ID Number:

RUB 1

Brand: Pipe Prop
Manufacturer:

Pipe Prop
---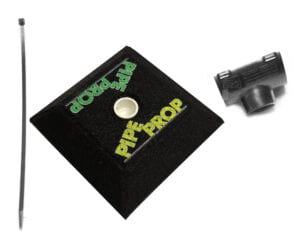 The RUB-1 from Pipe Prop is the new standard in adjustable pipe support systems for industry professionals. Homemade pipe support systems are unpredictable at best. The durability and reliability of a Pipe Prop product are what set it apart.
The RUB-1 serves pipes 1.5″ in width or smaller and allows you to determine your own height using 3/4" Schedule 40 PVC Electrical Conduit (cut required).
The RUB-1 comes with 1 rubber base, 1 saddle, and 1 nylon strap for securing your pipe to the saddle. No adhesive required!
Check out the RUB-3 for a wider saddle that supports up to a 3″ wide pipe.