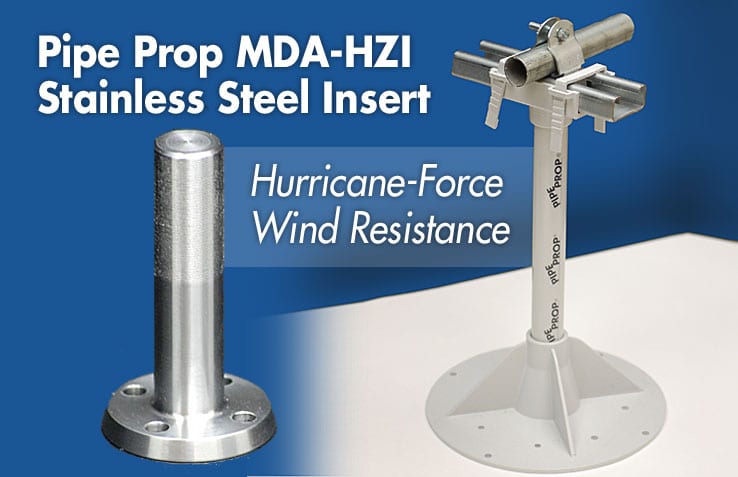 The US-PP, manufactured by Pipe Prop, is a unistrut version of the adjustable rooftop pipe support system for industry professionals including HVAC specialists, roofing contractors, electricians and plumbers.
While the Pipe Prop pipe support system has been tested in severe weather conditions from Florida to California, the addition of a newly added steel insert offers hurricane-force wind resistance for Florida residential and commercial roof top installations.
Pipe Support Load Factors and Overall Stability
When dealing with load factors of electrical conduit or condensate drainage over a rooftop in the high and intense wind surges and storms, building managers and contractors need a reliable system that can withstand those factors safely and year after year. Pipe Prop MDA-HZI stainless steel insert gives you that type of stability as it fits perfectly into the pipe support stand and when it is firmly affixed to any rooftop, it provides an even greater support and level of strength including a virtual water tight seal.
Since the steel insert is affixed directly to the roof with screws and then attached to the Pipe Prop pipe support stand using Miami-Dade approved adhesive, you get the greatest resistance to hurricane-force winds and storms available on the market. And proven results show Pipe Prop can safely hold anywhere from 1,745 lbs. to over 8,000 lbs. load capacity.
Whether the installation is for electrical conduit or condensate drainage piping, the adjustable rooftop pipe support system is a must have for building managers and contractors. The US-PP comes with 1 base, 1 saddle, and 1 nylon strap for securing your pipe to the saddle and serves pipes up to 1.5″ in width or smaller which allows you to determine your own height using 3/4" Schedule 40 PVC Electrical Conduit (cut required).
Pipe Prop has approximately 150 distributors from coast-to-coast including Florida, Texas and California.
Pipe Prop is manufactured in Fort Worth, Texas, USA, and is sold and distributed nationwide.