The Professional's Choice for PVC Rooftop Pipe Stand System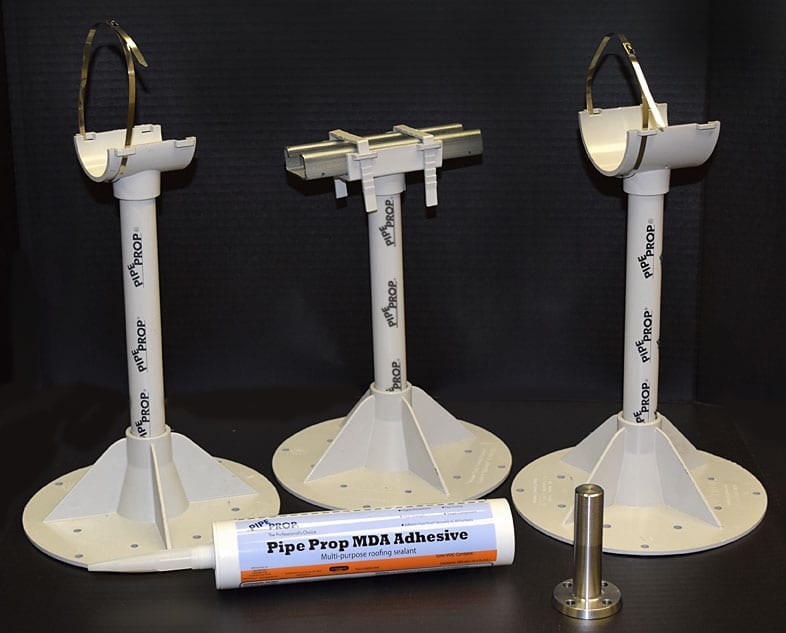 The Pipe Prop rooftop pipe support system is the leading pipe support and pipe stand for professionals including building managers, HVAC contractors, electricians and architects for many reasons. Due to it's durable construction, overall ease-of-installation and use along with its incredible strength and capability to withstand the variety of harsh weather conditions from Florida to California make it the choice of professionals throughout the U.S.
The Pipe Prop is Miami-Dade County Product Control Approved – NOA No. 15.1215.12 (Exp. 12/18/19) as an adjustable PVC pipe stand with extensive testing for product durability and manufactured quality. NOW Approved for electrical conduit as well as condensate drains.
Tested and Proven Products & Results
The proven results show Pipe Prop can safely hold between 1,745 lbs. to over 8,000 lbs. – which is truly extraordinary since the product weighs a mere 0.5 lbs. The pipe support load-testing results prove why building owners, architects and contractors consider Pipe Prop the Professional's Choice™ for pipe supports. And it's easy-to-install process saves time on the job increasing overall efficiency. The Pipe Prop pipe support system includes both full kit Miami-Dade Approved options including the APS-1, APS-2 and the Uni-Strut USPP. In addition, separately sold accessories also are available including the MDA-1000 adhesive, 12″ PVC piping, stainless steel straps and steel insert.
Flexible Design Options
Another key design element that allows Pipe Prop such flexibility is its ability to accommodate up to 1½-inch pipe (Model APS-1) and from 1½-inch to 2½-inch pipe (Model APS-2). There is no loss of strength or security with either model, no matter what size pipe is supported. And the system provides a lasting solution to keeping rooftop piping, conduit and electrical lines secure and level on commercial buildings. The easy-to-install system is perfect for condensate drains, gas supply lines and electrical conduit piping.
Learn more about Pipe Prop, what it is, how it works, and what it can do for you and your commercial building application:
Call 888.590.0120 or contact a local distributor near you to learn more about how the Pipe Prop can work for your applications.