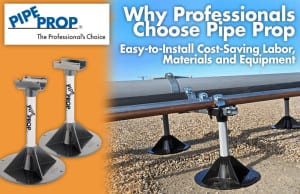 Leading the industry and the choice of professional contractors across the nation, the Pipe Prop adjustable pipe support system provides the best overall pipe stand product on the market today. From roofing contractors, plumbers and HVAC installers, the durability, cost-effectiveness and easy-to-adjust system provides flexibility for practically every situation is what professionals rely on day-in and day-out.
With the versatility of being able to install drainage pipe supports for air conditioning solutions, adjustable pipe stand flow for gas supply lines for plumbing professionals or safely support power and wiring for roofing conduit for electricians, the Pipe Prop keep building roofs protected and safe. In addition, the Pipe Prop support system includes complete adjustability while effectively security it to the roof, it offers a no-maintenance solution that keeps the work environment clean and orderly for years to come.
Whether your need is to accommodate from 1-1/2″ to 2-1/2″ conduit piping the pipe stand and support offers tested strength and durability and an overall savings in material, labor and equipment. Lastly, the Pipe Prop adjustable pipe support system has been tested and proven to perform under some of the most severe weather condtions from Florida to California.
Contact one of our more than 150 Pipe Prop dealers and distributors across the nation and you'll see why Pipe Prop is the contractor's choice for the perfect pipe stand and pipe support system. Call: 1-888-590-0120.