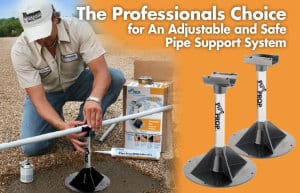 Industry professionals throughout the United States trust and incorporate the Pipe Prop adjustable pipe support system for securing industrial pipe on top of commercial buildings and structures whether supporting electrical systems, gas supply lines or HVAC drainage for safer and reliable work environment
Roofing Contractors
Because of its versatility in the work place, roofing contractors rely on Pipe Prop to protect the roof environment by elevating conduit above the roof securely and safely and is engineered to withstand changing weather and climate conditions and is light-weight, flexible for a variety of situations.
HVAC Contractors
Heating, ventilation and air conditioning contractors make use of the adjustable gravity flow drainage with the Pipe Prope need by creating a simple adjustable gravity flow for commercial buildings and residential attics and rely on the structural stability to know that their lines are secure and stable.
Electrical and Plumbing Contractors
Because of the structural stability it offers, and due to the load-tested which safely holds between 1,45 lbs. to over 8,000 lbs., plumbers frequently rely on Pipe Prop for supporting elevated gas supply lines. And in addition, electrical contractors understand that they are less likely to have power outages and minimze the risk of electrical shock when their conduit is safely supported unsing Pipe Prop's adjustable and flexible pipe support system on roofs, attics and interior structures.
Pipe Prop is the professional contractors choice for architects and service contractors alike for safety and security of a reliable work environment.