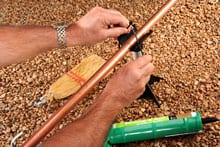 In days gone by, choices for plumbing pipework were few and there was no flexibility, quite literally; metal pipework, rigid in construction and had to be fitted precisely.
The modern world being what it is though has opened up that choice and flexibility; modern plastic pipes that can be fitted anywhere, capable of withstanding high and low temperatures and flexible enough to bend gently around many obstructions or planning design.
Aesthetics
We love the look of professionally installed copper pipework; when done correctly it shows traditional craftsmanship, a job well done, almost a piece of artwork all on its own. You just don't get that with the modern plastic alternatives.
If you have to have pipework on show, why not make a visual point of it?
Easy fit
There is no doubt that if you just need to fit pipework, without too much concern on visuals, if the pipework is hidden for instance, then plastic is the way to go. It can be so much easier to fit, this also reduces fitting time and therefore, expense.
Flexible
Fitted in to a cavity or floor, somewhere with difficult access, having a degree of flexibility with the pipework can save many moments of trouble (and shouting!). You don't need to worry too much about insulation either, most plastic piping is capable of withstanding low temperature without problem, certainly lower than un-insulated copper can withstand.
Support
Depending on the location and size or even amount of pipes fitted, supporting them can be very important, that is why we manufacture many different types and sizes of support systems for pipework. Ask your professional about the benefits of correct support for your pipes, or call us at 1-888-590-0120 or CONTACT US ONLINE for an unbiased, friendly opinion.