Applications of the Pipe Prop System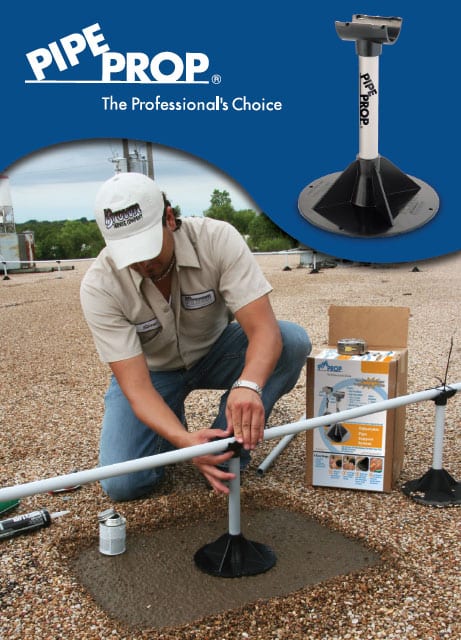 Roofing contractors, electricians and plumbers alike rely on the Pipe Prop pipe support system daily to increase their efficiency and productivity. Not only is the Pipe Prop known for its versatility in the work place, but it is regarded as the best choice for pipe support structures today. From HVAC condensate pipe support to electrical pipe support, our products offer something to every industry. Get in touch with our team today to discuss your project or browse our selection of pipe support systems online.
Pipe Prop adjustable pipe support system is the perfect choice for HVAC condensate drains, gas supply lines, and electrical conduit piping.
Because of its flexible design and adjustable capabilities, industry professionals can use Pipe Prop in a variety of ways:
Roofing contractors use Pipe Prop to protect the roof and elevate all types of piping, making for a safer work environment.
Electricians know that they are less likely to face power outages when supporting conduit with this unique system.
Plumbers routinely support gas supply lines with the Pipe Prop.
HVAC contractors choose our product to assist with adjustable gravity flow drainage on commercial roofs and in residential attics.
Building Managers/Developers rely on a pipe support and pipe stand system to protect their investment.
The key design element that allows Pipe Prop such flexibility is its ability to accommodate up to 1½-inch pipe (Model APS-1) and from 1½-inch to 2½-inch pipe (Model APS-2). There is no loss of strength or security with either model, no matter what size pipe is supported.
Call us at 1-888-590-0120 to order or find a local distributor near you.