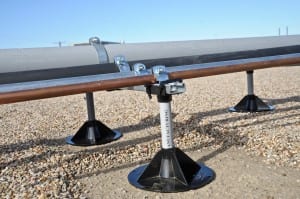 Professionals in almost any industry know that the right support makes all the difference in the quality of the results. When it comes to pipes, the best support keeps piping from failing, which can lead to damage and complex issues. At Pipe Prop, we know that our customers want the best system possible that will provide durability and security for any pipes. Our pipe support system is designed for easy installation and can withstand all types of weather conditions, making it the perfect choice for anyone dealing with commercial roofs.
How It Works
The purpose of installing a pipe support system is to provide a transfer of the pipes' load from a roof to the support system. Pipe roofing issues that can occur without support include the following:
Joint leakage
Thermal expansion
Sagging of the piping
The pipe prop is designed to hold up to 8,000 pounds of weight, efficiently handling even the biggest jobs on commercial roofs. Our flexible design ensures that the system can be installed to fit a wide range of uses and set ups.
Industries That Need Pipe Prop
Our pipe brace systems are used by professionals in many different vocations. There are many diverse benefits for using Pipe Prop, and the following professionals should take advantage of them:
Plumbers
Electricians
Roofing Contractors
HVAC Contractors
Architects
Engineers
Our simple, but effective, pipe support design helps ensure that pipes are securely fastened to roofs in order to provide a safe environment for all professionals on the job. Easy installation means that you can set up our system and get back to work in no time at all.
No matter your chosen profession, you can contact Pipe Prop at 888-590-0120 to find out more about our pipe brace systems and how they will benefit your future projects.