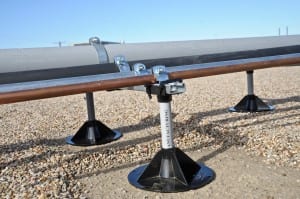 Working on top of buildings presents a few challenges. Along with the weather, there are other conditions a contractor must pay attention to in order to remain safe while on the job. Often times, there is piping running along a roof. A good pipe prop system helps protect both the tubing as well as the workers by increasing roofing safety. At Pipe Prop, we offer support systems that can be used in just about any setting.
Covering Your Bases
Of all the roofing safety tips contractors receive, one that is always repeated is to ensure the working environment is protected. When there is piping spanning the area, your workers will have to cross them regularly in order to get the job done. This could potentially cause a trip and fall over a pipe that isn't clearly visible. What's more, it could result in a burst tube, which can cause substantial physical and financial damage.
A pipe prop helps mitigate those risks, because the support system holds pipes in place and elevates them so they are easily seen. Additionally, these systems:
Are easy to install in a variety of environments
Are built from high-quality materials to withstand the harsh conditions a roof sometimes endures
Are flexible enough to accommodate a variety of pipe widths
Protect Your Roofing Project
If you want to ensure roofing safety, you should invest in a quality pipe prop system. They can expedite your project through mitigating risks and enabling your workers to do their jobs efficiently. Contact one of our specialists at Pipe Prop to find out more about how we can help roofing contractors. Contact us at (888) 590-0120.