Adjustable Pipe Support – APS-1
Model Number:

APS-1

ID Number:

APS-1

Brand: Pipe Prop
Manufacturer:

Pipe Prop

Schematics: Technical Drawings
---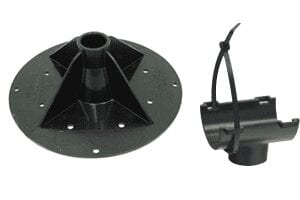 The APS-1 pipe support from Pipe Prop sets the standard for adjustable pipe support systems for industry professionals. Homemade pipe support systems are unpredictable at best and downright dangerous at worst. To support your pipes, you need a pipe support system designed to do the job right. That's what the APS-1 does. It's durable and reliable, just like the rest of Pipe Prop's pipe support products. That commitment to quality is what sets us apart from the rest.
The APS-1 serves pipes 1.5″ in width or smaller and allows you to determine your own height using 3/4" Schedule 40 PVC Electrical Conduit (cut required).
The APS-1 comes with 1 base, 1 saddle, and 1 nylon strap for securing your pipe to the saddle.
Check out the APS-2 for a wider saddle that supports up to a 2.5″ wide pipe.