Pipe Prop: Pipe Support Tool Specifications
Learn More About America's Favorite Pipe Support Tool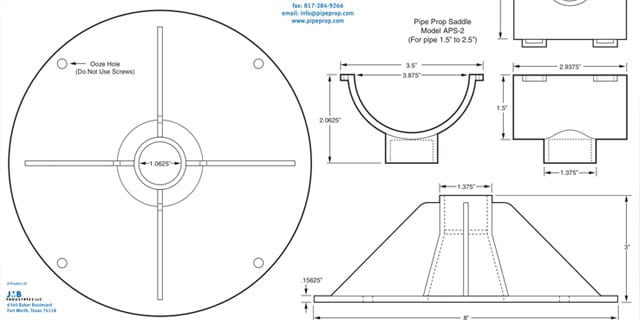 Pipe Prop has become the go-to pipe support tool for commercial roofs, winning over industry professionals everywhere. What is it about the Pipe Prop that makes it so effective?
The Material
Pipe Prop is made of a tough, durable ASA plastic that's made to withstand the most severe weather conditions. With installations more than 10 years old, Pipe Prop has exhibited zero loss of structural integrity or capability. We're so sure of our product that we guarantee the Pipe Prop will not buckle, shatter, or otherwise deteriorate, even in heavy rain, wind, sunlight, and hail.
According to The Plastics Web®, ASA, formally known as Acrylonitrile Styrene Acrylate, has "great toughness and rigidity, good chemical resistance and thermal stability, outstanding resistance to weather, aging, and yellowing, and high gloss." Not only is ASA flame retardant, but it is also weather resistant, heat resistant and UV ray resistant, making it one of the top choices in plastics.
Dimensions and Strength
Our pipe support tools' base measures 8 inches in diameter, and its saddle is available in two sizes:
Model APS-1 accommodates up to 1½-inch pipe.
Model APS-2 accommodates from 1½-inch to 2½-inch pipe.
At a 3½-inch height, Pipe Prop withstands loads ranging from 2,130 pounds at 140°F to 3,935 pounds at 140°F.
Pipe Prop has been tested to the following standards:
TAS 114-95 Appendix D and Uplift and Lateral Test
TAS 107-95 Wind Resistance Test
ASTM G-154 UV Exposure 2000h
ASTM D638-03 Tensil Properties of Plastics
ASTM G 26-96 Xenon Arc Type 5x Magnification
ASTM G 155-00A 4500L Accelerated Weathering
ASTM G 155-04A
ASTM G 155-05
ASTM D 635-03 Standard Test Method Rate of Burning
ASTM D 635-06 Extent and Time of Burning
ASTM D 1929-96 2000 Standard Test Method of Determining Ignition
ASTM D 1929-96 2001
ASTM D 2843-99-2004 Standard Test Method for Density of Smoking
ASTM D 2843-99 2004 E1
Weight
Pipe Prop is extremely light, weighing in at only 0.5 lbs. per unit, making it easy for professionals to carry onto roofs, into attics, and up ladders.