Document Archive
Download and view our brochures and manuals offline. To view them, you may need a PDF reader such as Adobe Acrobat installed on your Mac or PC.
Miami-Dade NOA
Download all Miami-Dade Notice of Acceptance documents
Miami-Dade CAD Drawings
Download all Miami-Dade CAD-based drawings for the APS-MDA-1, APS-MDA-2 and USPP-MDA
ANSI FM 1950 and ASCE 7 Reports.
Report Date: January 19, 2018 Report Number: 18J377 CEL Project No. 50-53424-C Report Revised April 4, 2018*
The purpose of this testing program was to provide data to substantiate performance capabilities of the Pipe Prop system per ASCE 7-10 Section 1.3.1.3 Performance-Based Procedures.
IAPMO Certificate for Listing of Pipe Prop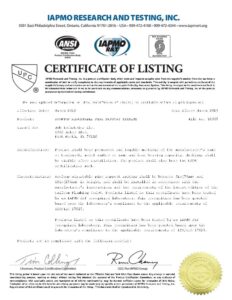 Pipe Prop, manufactured by JMB Industries of Fort Worth, Texas, was approved for Directory Listing IAPMO IGC 331-2016 by the International Association of Plumbing and Mechanical Officials (IAPMO) for Uniform Plumbing Code (UPC).
Download IAPMO Certificate for Listing
Download IAPMO Certification Press Release
Pipe Prop Plastic Laboratory Test
Testing Purpose: To determine the water absorption of the plastic used with the Pipe Prop®. The APS-1 saddle, APS-2 saddle, and the APS-1/2 base were assessed.
Pipe Prop Installation Overview